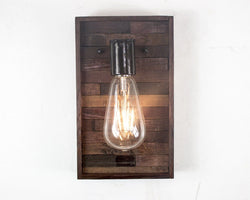 Livet Products
Wine Tank Wood Wall Sconce
The Wine Tank Wood Wall Sconce is crafted from the oak wine barrel planks. It is handcrafted from recycled wine-stained planks, which are a byproduct of the wine industry. These beautiful oak planks were originally used to flavor giant tanks of wine (think 270,000 gallons!) as well as regular barrels that have lost their flavor. During wine production, the oak planks soak in the wine for a year or more.  The type of wine determines the resulting color.
Details:
Material: Retired Napa wine barrel staves
Dimensions: Approx 10"H x 6""W x 4"D (projecting from wall)
Includes: Fixture
Socket: (1) E26 standard socket; Wattage: 60w max 
UL Certified
Bulbs not included
*Shipping for this product takes approximately 2-3 weeks. In order to offer the best selection and prices, we offer products from a number of sources, some of which have longer shipping times than others. 
This product is carefully handmade using 100% recycled materials. And is an individually handcrafted, one of a kind creation, and not factory manufactured. It is therefore quite difficult to make identical items. Our attentive artisans make every effort to create only the best from materials with natural variations that should not be misconstrued as flaws. These make each piece of a handmade product charming and unique. The pictures may not be identical to the product you receive. It's probably even more awesome!