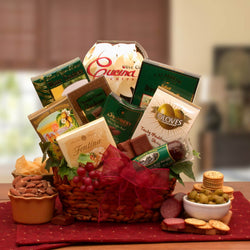 Livet Products
The Vintage Gourmet Gift Basket
A unique seagrass basket adorned with grapes and leaves delivers a delicious assortment of gourmet favorites such as Bistro style kettle chips, summer sausage, crackers and more. The Vintage Gourmet Gift basket includes Three pepper water crackers, smoked almonds, Fontina creamy cheese spread, chocolate covered graham crackers, 3 oz beef summer sausage, pimento-stuffed Mediteran olives, cranberry harvest trail mix with nuts, Bistro style cuccina chips. This gift basket comes in a natural seagrass woven basket adorned with grapes and leaves. This gift basket measures 11" long by 8" wide and is 14" tall, weighs 4 pounds, is wrapped in cellophane and topped with a hand-tied bow.
Want to include a special Note or Message with the delivery of your gift basket? Please enter your desired message in the Order Note section of your order (limit 50 characters).
*Shipping time for most gift baskets is 2-3 business days, some may take up to 5 business days depending on destination.  For expedited shipping, you can select 2 Day Air or Next Day Air from the drop down menu, for an additional cost. 
**Gift Basket sales are final, unless the wrong item was received or it was damaged in transit. If either of those cases are true, we must be notified within 24 hours of the delivery, and we will retrieve the gift and refund it in full or re-ship it. However, we do not allow recipients to keep a gift and receive a new one or a complete refund. For us to assist you, the original gift must be retrieved.